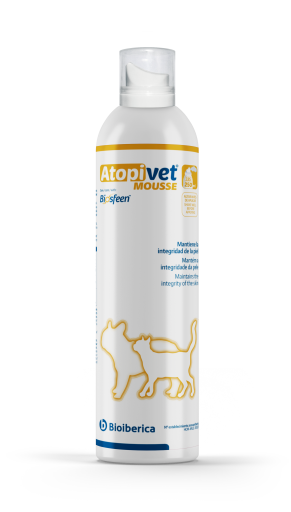 customer_also_bought_ani
Traveness

Traveness
Description
Atopivet Mousse to Maintain Skin Integrity Bioiberica
Hygiene product for dogs and cats that contributes to maintaining the integrity of healthy skin, moisturizing and nourishing the skin of pets.
How it works:
BIOSFEEN® is a unique extract of animal-derived sphingolipids developed by Bioibérica, containing ceramides and a high content of sphingomyelin, itself a precursor of ceramides. Dermial® Hyaluronic Acid significantly increases keratinocyte proliferation and dermal fibroblast migration. Fibroblasts are involved in the regenerative capacity of the skin.
Recommended Use:
Dogs and cats, especially during or after debilitating diseases of skin integrity such as dermatitis.
Suitable for Dog, Cat, Ferret, Rabbit and Rodent.
Administration:

Topical use Shake well before applying. External use. Do not rinse.
Remove the hair of the dog or cat and apply the mousse directly on the skin, especially on the areas to be treated. The amount varies according to the weight and extension of the lesion.
It is recommended to apply immediately after bathing and leave a minimum of 48 hours until the next bath.
Apply twice a week, for a minimum of 4 weeks, and then apply once a week.
Ingredients
Atopivet Mousse to Maintain Skin Integrity Bioiberica
Composition:
Sphingolipids (Biosfeen)
Hyaluronic Acid (Dermial)
Features
Atopivet Mousse to Maintain Skin Integrity Bioiberica
Reference

8430336091984

Weight

250 GR

Quantity

250 ml

Brand

Bioiberica

Complements for

Skin, Hair

Age

Adult

Format

Liquid

Dog Size

Small, Medium, Maxi, Giant

Special Cares

Hair and Skin

+10 Kg, -10 Kg

Small Animal Type

Ferrets, Rabbits, Guinea Pigs, Hamsters

Product Range

Bioiberica Dermatology, , Bioiberica Dermatology

Formato
Customer Reviews
Atopivet Mousse to Maintain Skin Integrity Bioiberica