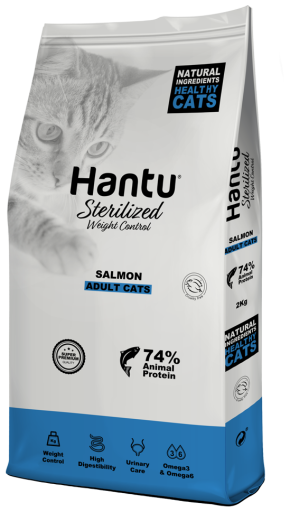 Description
Adult Sterilised Salmon Hantu
Hantu Adult Sterilised Salmon is a natural food designed for sterilised adult cats.
Made with natural ingredients of the highest quality, Hantu Adult Sterilized is a premium food that will provide your cat with a complete and balanced diet, giving it all the nutrients it needs thanks to its high salmon content (30%).
28% of cats are sterilised, which is why they need a diet suited to their needs. As we know, a sterilised cat tends to increase its weight and appetite due to the metabolic changes this produces, so it is essential to control the levels of energy, fat and fibre it consumes. Hantu Adult Sterilised contains appropriate levels of fibre to keep your cat feeling full while consuming the lowest concentration of calories - a real achievement by our specialists!
Another essential ingredient in our cats' diets is taurine, which supports good vision and heart muscle function. Cats need an optimal amount of taurine in their diet, which Hantu's nutritionists have carefully calculated so that they receive exactly the right amount at each meal.
This recipe also contains Omega 3 and 6 fatty acids for a healthy coat, which are also anti-inflammatory, helping to keep your cat's joints in perfect condition. Vitamin D3 helps the metabolism of calcium, Vitamin E is a natural antioxidant that helps the immune system, without it our cat can suffer hair loss or even flaking and L-carnitine whose function is to transform excess fat into energy.

BENEFITS:
- Satiating effect
- Weight control
- Good digestive health
- High palatability
- Urinary care
CHARACTERISTICS:
- Top quality fresh meat
- 80% animal protein
- Optimal taurine levels
- Natural ingredients
- Kibble adapted to your dog's palate
- Supports healthy joints and bones
- Protects their skin and coat
- Protects his immune system
Ingredients
Adult Sterilised Salmon Hantu
Fresh salmon 30%. Dehydrated salmon protein11.5%. Rice. Hydrolysed salmon 8%. Beet pulp. Vegetable fibres (cellulose). Hydrolysed poultry 5%. Dehydrated chicken protein 4.8%. Maize gluten. Maize. Rice protein. Chicken fat. Yeast. fish oil Mineral substances. Inulin (source of fructo-oligosaccharides - FOS). Mannan-oligosaccharides. Citrus extract. Yucca schidigera. Conjugated linoleic acid. 74% protein of animal origin of total protein.
Features
Adult Sterilised Salmon Hantu
High Palatability

Protects your immune system

Natural ingredients

Optimal taurine levels
Reference

8413037335298

Weight

15 Kg, 12 KG, 2 KG, 4 KG, 6 KG, 8 KG

Nutritional Conditions

Natural,

Age

Adult

Special Cares

Hair Care, Hair antibolas, Articular Care, Sterilized, , , ,

Brand

Hantu

Made in

Spain

Flavor

Salmon,
Customer Reviews
Adult Sterilised Salmon Hantu