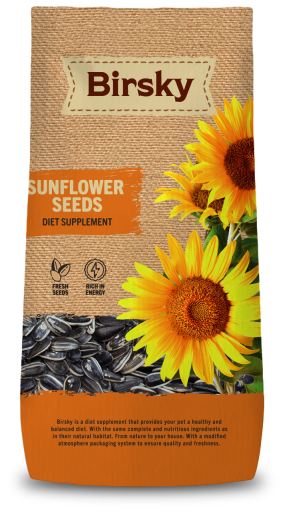 Description
Sunflower Seeds Birsky
Birsky's Sunflower Seeds are a 100% natural vegetable food, prepared to satisfy the palate of our parrot. Sunflower seeds are usually of great pleasure for this type of birds and have always been part of their diet.
Sunflower seeds are a food that should always be offered as a complement to a main food such as Birsky's Extruded for Parrots. Sunflower Seeds love them, but they should also have a contribution of dried fruits and other seeds.
CHARACTERISTICS:
Natural source of vitamin B6, it will reinforce their vitality.
Vitamin B1, which will contribute to the maintenance and growth of the skin.
Source of iron, phosphorus and potassium.
Great taste and high palatability
High fat content
Ingredients
Sunflower Seeds Birsky
100% sunflower seeds, Vegetable nature.
Features
Sunflower Seeds Birsky
Rich in Vitamin E and Vitamin B1

Source of phosphorus, iron and potassium

High fat content

100% sunflower
Reference

8436579243715

Weight

1 Kg, 2 KG, 4 KG, 500 GR

Bird Type

Cockatoos, Lories, Love Birds, Cockatiel

Brand

Birsky, Birsky, Birsky, Birsky

Format
Customer Reviews
Sunflower Seeds Birsky